FGP: ULTIMATE CLASH Back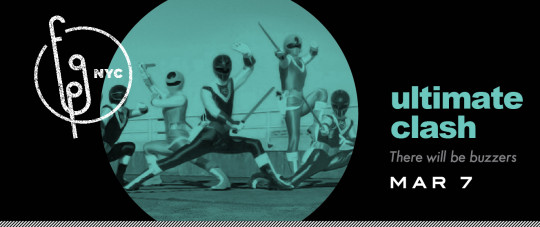 I'm curating FGP's event this month, Ultimate Clash! Check it out!
ULTIMATE CLASH
Live collaboration meets American Gladiators.
Musicians meet dancers meet writers meet actors.
There will be buzzers.
GET IN THE RING.
WHEN:
Friday March 7th, 2014
Doors at 7:30pm
Clash at 8:00pm
WHERE:
Judson Memorial Church
55 Washington Square South
Take the A, C, E, B, D, F, M to West 4th Street
or the N, R to 8th street
or the 6 to Bleecker Street
WHAT:
Dance groups, writers, musicians, and actors join together to collaborate LIVE in the most athletically epic FGP event ever.
In traditional CLASH fashion, the night will start by randomly pairing a dance group with a musical act to perform together for the first time. During this live collaboration, a writer will "claim" the performance and write a short play or monologue inspired by this piece. Later in the evening a team of actors, randomly assigned to each play, will perform these short pieces, in conjunction with the original inspiring, musicians. Confused? Great… come be surprised. Visit www.fgpnyc.com/next for more event details.